MarchingLinks.com Customers and Friends
Just what do our customers and friends do with all the band uniforms they purchase/rent from MarchingLinks.com? Here are some pictures/video to find out!


Laura Wolf is the absolute best in customer service. I had a show with over 300 students and I was swamped with work and last minute decisions. Laura kept in contact with me, giving me friendly reminders of my requests and lending a helping hand whenever needed. When I asked for 11 band uniforms instead of the 9 that I really needed, she quickly refunded my money. By the day of the show I had all my band uniforms and no worries! I would use Marching Links over and over again! Thanks Laura!

Crescent McGlone
Madame Secretary S2 - E17 with uniforms provided by MarchingLinks.com
CMT 2017 Music awards. Brett Eldredge singing 'Finally Found Something I'm Good At' with drum line wearing uniforms provided by MarchingLinks.com.
QL Media House in conjunction with Rocket Mortgage with uniforms provided by MarchingLinks.com.
Ok-Go music video "This Too Shall Pass" featuring uniforms provided by MarchingLinks.com.
Johnsonville commercial with uniforms provided by MarchingLinks.com
Did you enjoy Vampire Diaries?
Mystic Falls Marching Band uniforms provided by MarchingLinks.com! (Season 1 Episode 22)
Uniforms provided By MarchingLinks.com
In 2010 TNC productions, in conjunction with Tommy Hilfiger & Radical Media, made this great video to promote the opening of Tommy Hilfiger's new 5th Ave. store. In this case they have students from the Soul Tigers marching band playing and marching in New York city . They needed marching band uniforms quickly, and found MarchingLinks.com. To complete the desired look they also wanted to add the Tommy Hilfiger logo. We were happy to oblige.
If you're a stylist, media manager, or band director we hope you'll consider using MarchingLinks.com to help outfit your production.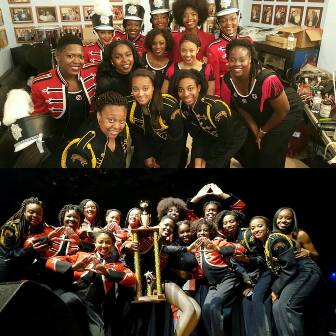 The performance was AWESOME. Everyone wanted to know where we got the uniforms. We forwarded your information to 5 high schools that were in attendance. The participants raised at least $1000 for their charitable organization. The Dean of Students also had them to perform for some of our new students on Welcome Wednesday. Thanks for all your help!!!!
Felicia Echols
Saint Louis University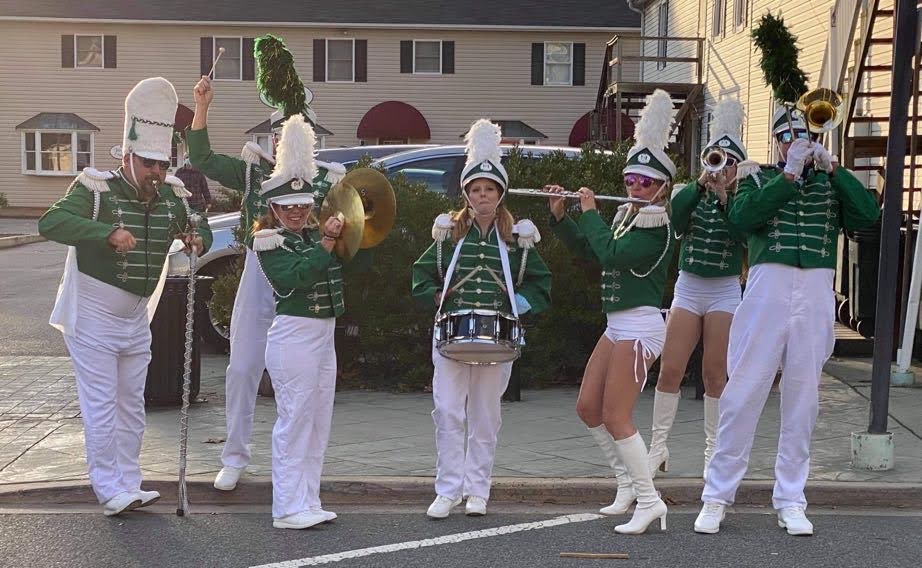 Feel free to use the photos! We used them for a private Halloween party the first weekend and then we paraded them around town this past Saturday and they were such a huge hit! We looked so good that everyone was surprised how bad we sounded (none of us had any experience playing our instruments).
Thanks!
Erin

I want to thank you for your help with the uniforms! I've attached a photo of our band in their very first performance in our school's history so you can see how snazzy they look!
Laura Bookser
Mater Dei Catholic High School
Chula Vista, CA 91913
Hi Laura,
Here is a photo of our band in the uniforms we bought via Marching Links, We love them! Please pass it along to the seller!
Pat Smeback
Vacaville High School
Vacaville, CA
Here is a pic from the Alfred Street Baptist Church play "Angels" with one of the uniforms purchased.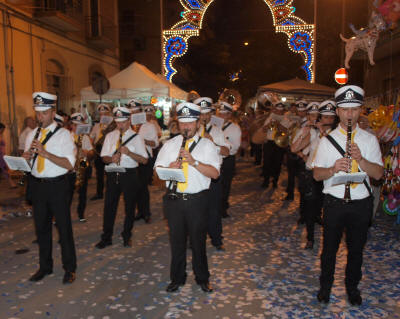 Nino Valenti's band in Italy. Shakos purchased from MarchingLinks.com!
Laura
I hope this note finds you well --- just wanted to let you know that the uniforms have worked out wonderfully. We've just finished fitting everyone and are having them dry cleaned. The kids will march for the first time in uniform at their first home game on September 19th.
I will send you a photo of whole band in uniform once we have one to share.
And we'd be happy to serve as a reference for anyone who might ask for one.
Happy September!
Cheryl Elkins
Framingham High School Band
Framingham, MA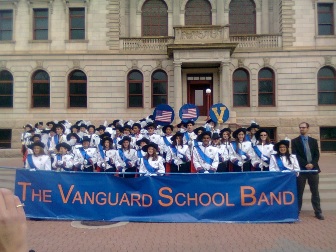 Looking great! Don't have any pictures of the actual parade just yet. Thanks again!
Jeff Wilson,
The Vanguard School
Colorado Springs, CO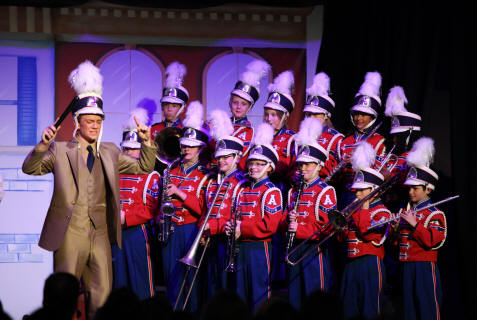 Hi Laura!
The show was AMAZING. The little kids looked PERFECT - I'll try to attach a pic, here, for you.
I boxed all the uniforms and hats up yesterday, and the school is sending them out parcel post today. Let me know when you get them!
Thanks for EVERYTHING,
Mollie Petty,
Boise, ID
I have to tell you I was pleasantly surprised to find the jacket had been delivered today. Wow, that was quick. When I opened the package and took it out I was thrilled. It's absolutely Perfect!!!! I love it. The fit is excellent, the colors perfect; I can't say enough good things about it. Thank you so much for your help and quick delivery.
Just for fun, visit our website and listen to us live at the Galaxy Theater here in CA.
emperorrocks.com
Thanks again Laura! Steve Watts
Galaxy Theater, CA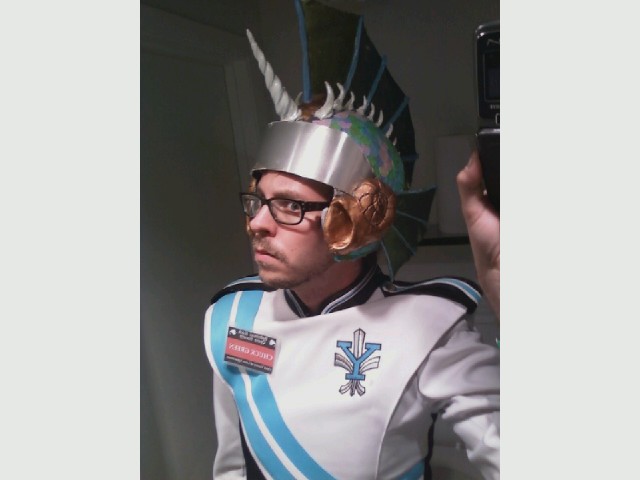 Thanks for the shipment! I attached a picture of the uniform in action at the H Street Festival in DC last Saturday. Our theatre group, the Baltimore Rock Opera Society, has been putting together "official" uniforms based on marching band uniforms. The hat is not in the picture because I did not have modifications for it, so I used my helmet from our rock opera, Typhoonicus.
Chuck
Baltimore Rock Opera Society
Baltimore, MD
Yes! They did arrive and we are in the process of fitting the students...everything worked out perfectly and they look great! Dealing with your company has been one of the easiest experiences that I've had... I appreciate your excellent, thorough, and expedient service!
Kimberely Sturgill,
Band Director
Union High School
Big Stone Gap, Virginia
Laura,
I'm very excited to actually be getting a full set of uniforms now! You guys at Marchinglinks have been a blessing for the Bishop Carroll High School marching band. We all want to thank you from the bottoms of our hearts for everything you all have done to help us!
Floyd Rousell
Music Teacher
Bishop Carroll Catholic High School
Hi Laura,
I received the uniforms last Thursday.
The uniforms all arrived safe and sound, and they look great. We have already removed most of the stitching, and my students are very excited.
It's been over 10 years that this school has gotten a different set of uniforms, and it's about time! Again thanks for everything.
Let me know when you get a chance.
Thanks!
Edgar R. Torres
Thomas Jefferson High School
Music Director
Los Angeles, CA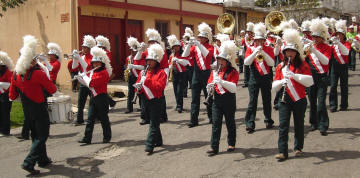 Hi Laura!
My name is Leonardo Barrios and represent a local private high school located in western Guatemala. We recently bought some helmets and plumes from marchinglinks.com through a friend of mine in the USA. I attach a couple of pictures of our forming marching band and the use we are doing to the stuff you sold to us.
Best Regards,
Leonardo Barrios
Institute San Carlos
San Marcos, Guatemala.
The kids ABSOLUTELY love the uniforms! I've been hearing nothing but great things for how the students look & sound! I, too am very happy with the uniforms & how they've turned out! After not having a marching band here on the field in about four years, it's so great that we can actually put a band on the field that LOOKS & SOUNDS like a marching band should! From the bottom of our hearts, thank you so much! We are wearing our uniforms with pride to show everyone that although we may be small, we are, "The Few, The Proud, THE BAND!"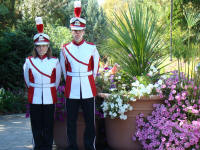 Hi Laura!
We received the hats today! They are beautiful! We are so excited to use them. Thank you so much for your help in getting them for us. They go perfectly with our uniforms.
Thank you so much.
Sincerely,
Debi Wilson
Shelley High School Marching Band
Shelley, Idaho
Hi Laura,
The jackets arrived this morning and we're still in shock that they arrived so quickly. We can't thank you enough for working with us in such short time. Thank you so much for helping us look up the postage, for replying the emails and for all your hard work. Certainly if any other schools in Melbourne, Australia need band items we'll point them your way.
Thank you again.
With much gratitude,
Trang.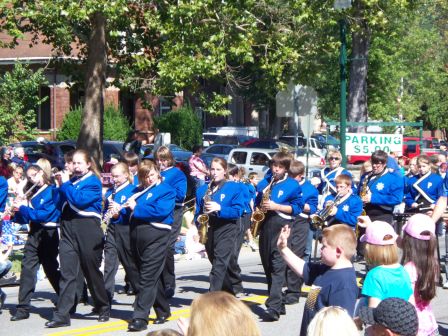 Thank you for your attention and help in this matter. The uniforms matched our own very nicely. And the kids did a wonderful job performing. Our school previously had only 20 uniforms. I've since increased enrollment and we needed them badly, but didn't have the budget for new uniforms. Than you for offering the service you do. I've already heard great comments on how good the band looked. Thank you for making it possible!
Andy Milner
Paintsville High School
Paintsville, KY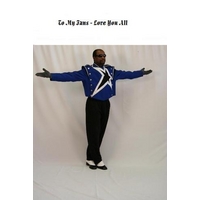 Go to www.jango.com/music/twon/u> to look at the band jacket I purchased from you. Will be seen worldwide September 7th on BET and VH1. Also check this website for CDs, videos and songs: www.twon.yolasite.com
Artist: Twon (Antoine Gantt)
Genre: Contemporary Gospel
CD Release Date: Globally September 7, 2010
CD Name: "Twon"
&n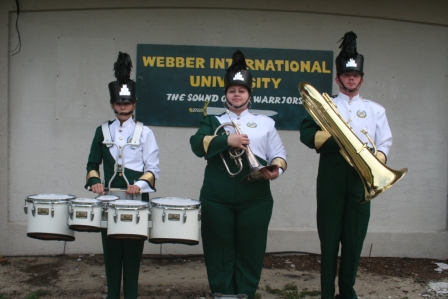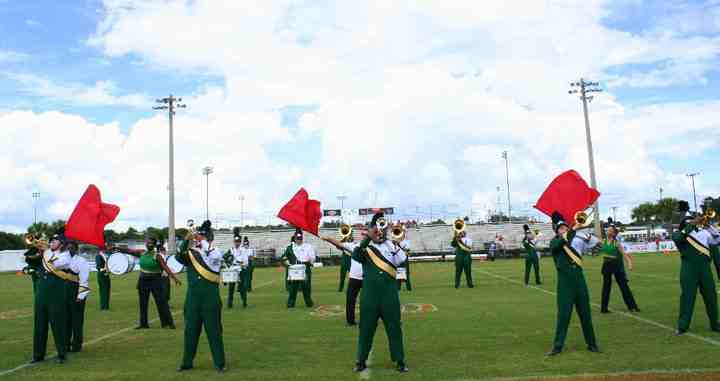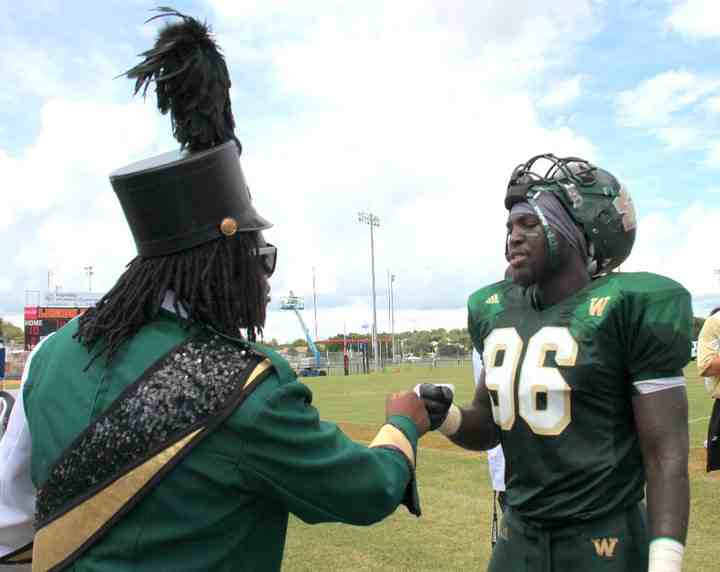 Thanks Laura...We have fitted a few off our students and sent out a picture to alumni, students, staff, and the entire Webber Family. The response I have received is outstanding! The pride of the school, as well as our band program will certainly shine brighter with these uniforms.
Also check out the picture with the football player this is going to be in our school media pack...One School One Team One Family...
Thanks so much...I know we will do business in the future!
Michael Yopp
Director of Bands
Webber International University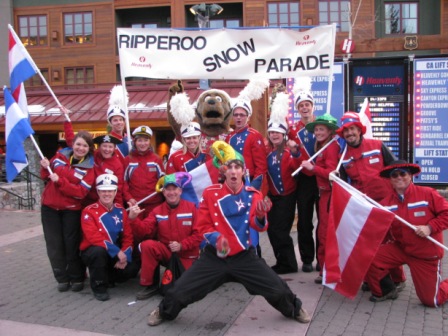 Heavenly Ski and Ride School-Ripperoo Parade
Just wanted to say thanks for all your help, and for getting these to us so quickly! The Parade was a huge hit, here's a photo.
Thanks,
Krissy Spann
Heavenly Ski and Ride school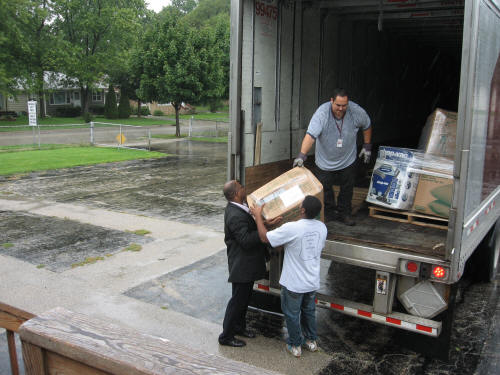 Laura,
We received the uniforms and helmets today! They are beautiful!
Unity CDC and Joliet, Illinois at large will benefit greatly from your liberality and generosity. I will be forwarding you a proposal for our Mentoring Through Music program which will rely on the use of these uniforms. Everyone here at Uniyy is very happy with the uniforms and commend you for your gift.
Attached you will find a picture of myself and a community service worker receiving the uniforms. I am the gentleman in the blue jacket.
Thanks again.
Regards,
John L. King
Item#0808BAH072
Thanks for following up. We are working in an underserved, socio-economically disadvantaged neighborhood here in Joliet. Therefore, the clientele (youth) come from very dysfunctional families. We are still working to bring the group together, and unfortunately, my timeline (as I learned from a band director) was kind of unrealistic. However, we are moving forward. Some school band directors have voiced their interest in helping, so this is positive. One thing we are trying to do is find grant money for instruments. Your donation has motivated band professionals to work with us which is good. So thanks a lot for your help. I will keep you informed.
God Bless You!
John L. King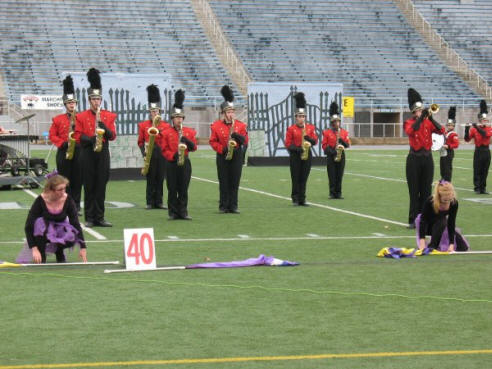 Arch Bishop Ryan, Phila, PA at Championships
We came in third place at Champs and won best guard. So we had a very good year. Also attached a picture of your black pants in action. Thanks again for all your help. Have a Merry Christmas and a Happy New Year!
Thanks,
Brian Agger
Arch Bishop Ryan,
Philadelphia, PA
Your 42 sold uniforms to Norway were in action in June and as promised here from our "performance". We had fun, though real marching band fans probably would be ashamed. But for having only 6 people who had touched an instrument before this event, we had a blast. Hope all is well with you.
Regards,
Jens Guthe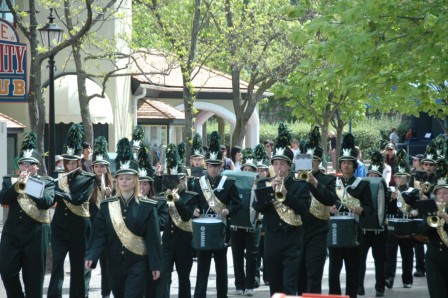 St. Joseph-Scollard Marching Band at Canada's Wonderland Theme Park
Hi, Laura,
I just wanted to email you some pictures of my beginning marching band sporting the uniforms purchased through you. We played in a parade at Canada's Wonderland Theme Park in Toronto this past Friday. You mentioned that you would post some MarchingLinks success stories on the website after a sale!
Hope all is well with you,
Thanks.
Brian Overholt
Bears Music Department
St. Joseph-Scollard Hall
Catholic Secondary School
Canada