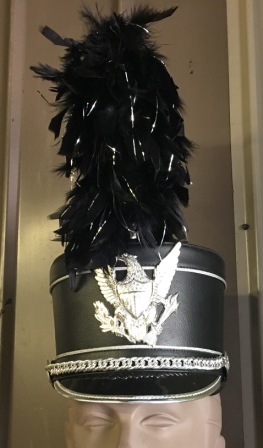 This is a set of 1 to 100+ black feather plumes with silver mylar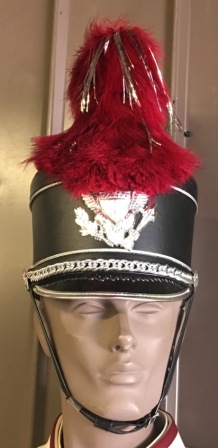 Set of 1-100+ 9" dark red maribou feather plumes with silver mylar
Item#0110OTA160 SOLD!

160+/- gently used red, black and silver marching band uniforms
Item#0110DAM100

Set of 100 (+/-) used red, white and blue marching band uniforms
Item#0617LAN001 SOLD!

1 Drum Major Uniform
Item#0110YFABlue100 SOLD!

Set of 130 (+/-) used royal blue uniforms w/ silver sequin insert
Item#0409MART100

Set 100+ of Navy Marching Band Uniforms with White and Red Trim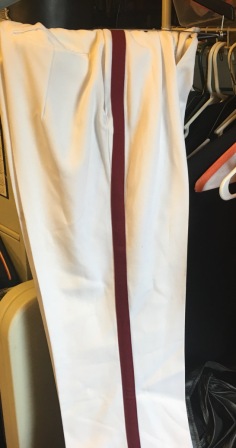 Item#0110WhiteBurgundyPants

Set of 100+/- White Marching Band Pants with Burgundy Stripe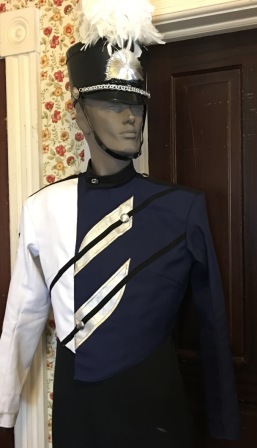 Item#0110RAN100

Set of 100+ blue, black and white marching band uniforms SOLD!
Item#0110PurpleStarGauntlets100

50 purple and silver sequined gauntlets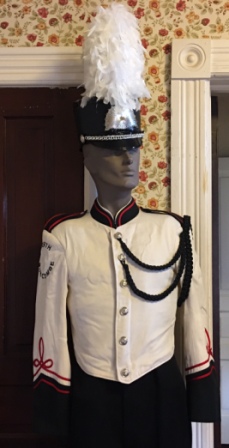 Set of 110 +/- White and Black Stanbury Used Marching Band Uniforms

Set of 100+/- Navy Blue Marching Band Bibbers
Set of (160 +/-) Green, Black, and Silver Marching Band Uniforms including Busbies and Plumes
160+/- very nice black marching band uniforms including jacket, bibbers and sequined baldric SOLD!
Item#0110PRINT069
Set of 88+/- Red and Black Marching Band Jackets
Item#0110GRACE200
48 White, Black and Maroon Marching Band Jackets
Also has 10 Maroon Color Guard Jackets
Item#0110FRI100
100 + Set of Royal Blue & White Band Uniforms with Gold Sequined Capes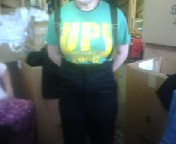 Item#0110PantsBlack100
100+ Black Pants with Black Suspenders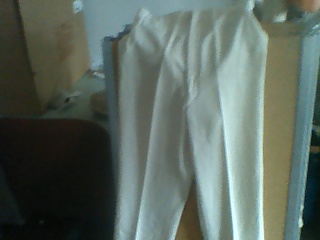 Item#0110OffWhiteBibs100
Off-White Marching Band Pants
We've got a page dedicated to used shakos/helmets/aussies and more. Check it out!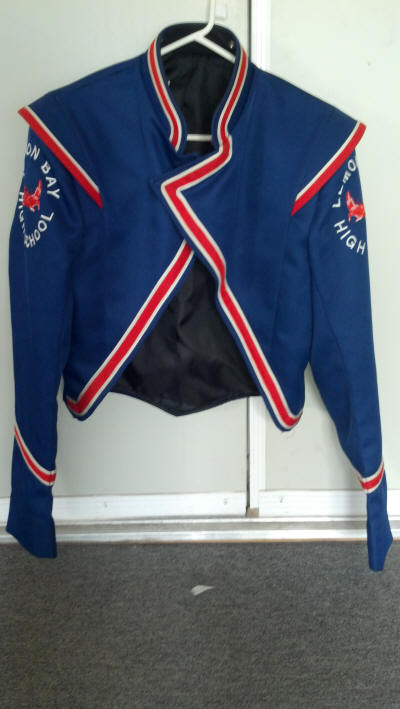 Item#0110LEMON076
76+/- Royal Blue and Red Marching Band Jacket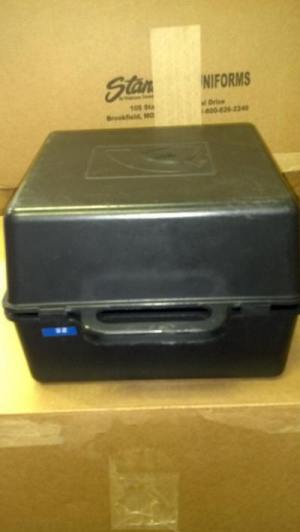 Item#0110HatCase100
Plastic Storage Cases for Hats/Helmets
SOLD!

148+ DeMoulin Burgundy, White and Gold Used Marching Band Uniforms PLUS
Extra Set of Pants and Matching Concert Jackets: 2 SETS IN ONE!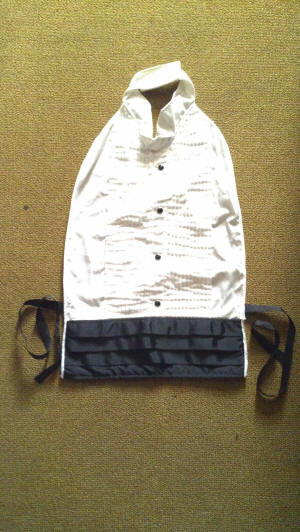 Item#0110CummerDickie092
Set of 92+/- Tux Dickies with attached Faux Cummerbund
Item#0110ButtonDickie100
Set of 180+/- Tux Dickies
Item#0110BurgStripePants
40+/- White Marching Band Pants with Burgundy Stripe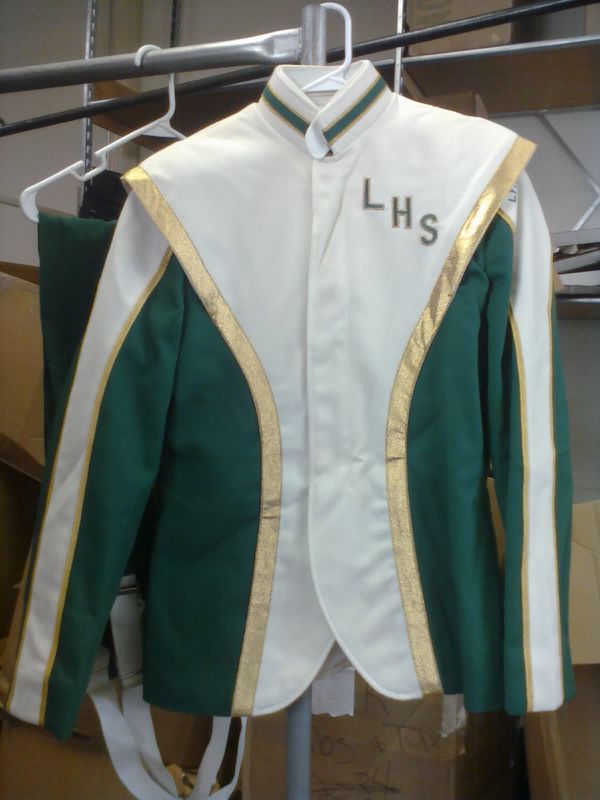 Item#0110BROOK150
150+/- Green, White and Gold Marching Band Uniforms
Don't forget to check out the listings for larger uniform sets at our uniformclass page.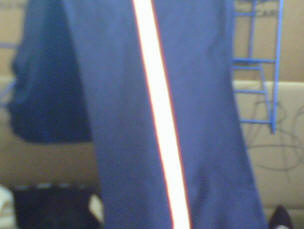 Item#0110BluePants100
Navy Blue Marching Band Pants with White Stripe and Red Piping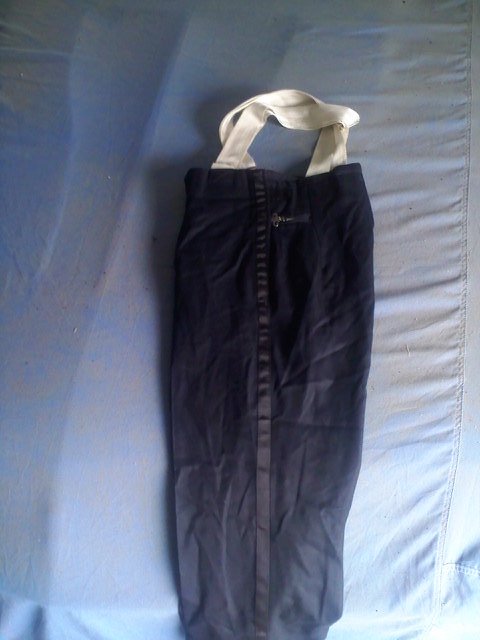 Item#0110BlackPants100
100+ Black Pant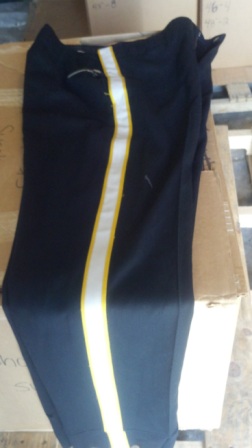 34 pairs of black pants with white stripe and gold piping.