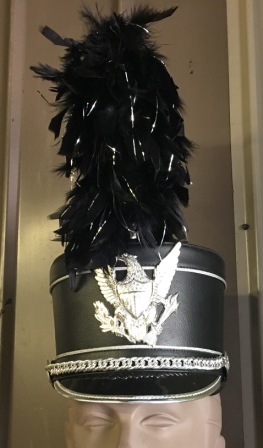 This is a set of 1 to 100+ black feather plumes with silver mylar
Item#0918SAN129

Set of 129 Burgundy and White Marching Band Uniforms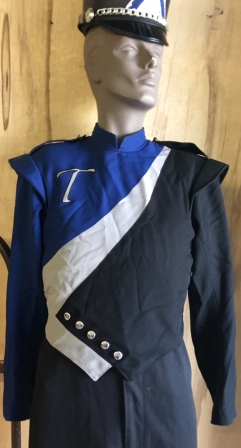 Item#0110CAR210

210 (+/-) Black,Gray and Blue Used Marching Band Uniforms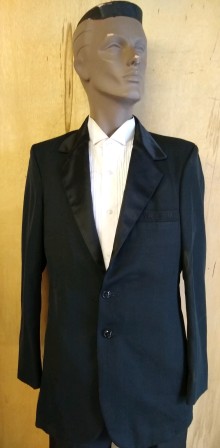 Item#0110LUNtux197

197 (+/-) Used, Black Concert Tux Jackets


Item#0110GRA242

242 (+/-) Black and Red Marching Band Uniforms
Item#1218GARred180

180 (+/-) Black and Red Marching Band Uniforms
Item#1118GAN309

Set of 309+ (or 1/2) Black and Gold Marching Band Uniforms
Item0110IKE202

202+/- Black, White and Yellow/Gold Marching Band Uniforms
Item#0110ALA164

164 (+/-) Black, White and Gold Marching Band Uniforms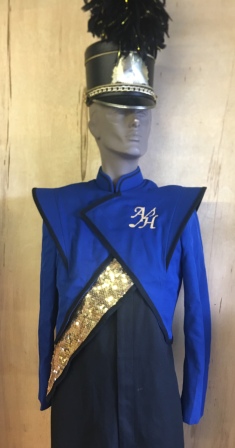 Item#0110GAZ090

90 (+/-) Royal Blue, Black and Gold Marching Band Uniforms
Item#0110WOR120

120 (+/-) Blue, Black and White Marching Band Uniforms w/ Overlay
Item#0110RAM125

100 (+/-) Red & Black Stanbury Marching Band Uniforms
Set of 62 Red Marching Band Jackets
27 Black Marching Band Jackets
Item#0110KNO190

195+/- White, Burgundy, Gold and Black Marching Band Uniforms
Item#0718PAL147 REDUCED!

146 Used Black & Gold Marching Band Uniforms
Used Navy Blue/Forest Green Used Marching Band Uniforms
Item#0718VAN123

Set of 123 (+/-) Used Red & Black Marching Band Uniforms
Set of 70 Blue, Black and White Marching Band Uniformsfont SIZE="2">
Item#0618MAR075

75 Used Orange & Black Marching Band Uniforms With Hats/Plumes
Set of 115 Red and Black Used Marching Band Uniforms
Set of 114 Blue and White Marching Band Uniforms
Item#0318DRESGreen095

Set of 95+ gently used green, black and white marching band
uniforms
Item#0318DRESBlack130

This is a set of 130 gently used black and white marching band uniforms made by Stanbury
Item#0110CRP100

Set of 58 Used Black and White Used Marching Band Uniforms
Item#0110SUM100 SOLD!

Set of 150+/- gently used black & white marching band uniforms
Item#0218ONYCords150

Set of 70 Used Citation Cords
Item#0318SWA110 SOLD!
Set of 110+ Used DeMoulin Marching Band Uniforms in Navy and White
Set of 135 Used Burgundy and Black Cesario Marching Band Uniforms (jackets & bibbers) with 112 matching shakos
Item#0218SON075 SOLD!
Set of 75 Red, White and Royal Blue Used Marching Band Uniforms
50 gently used navy blue marching band jackets
Item#0110VASDress

Formal, black, full length dress for concert band/choir
Item#1017NEKPants054

Black pants with white/blue stripe down the side
Set of approximately 106+/- gently used black, white and metallic gold marching band uniforms
Item#0817CHEN091

Set of 91 White Pants w/ Green Stripe
Item#0817CHENJackets024

Set of 24 Black Scout Jackets
Item#0817CHENGreenJackets127

Set of 127 Green Scout Jackets
Item#0817CHENWhiteJackets014

Set of 14 White Scout Jackets
Item#0817CHENGreenUnis217

Set of 217 Green Uniforms with Yellow Accents
Item#0517JAC070

Set of 70 Maroon and White Stanburry Band Uniforms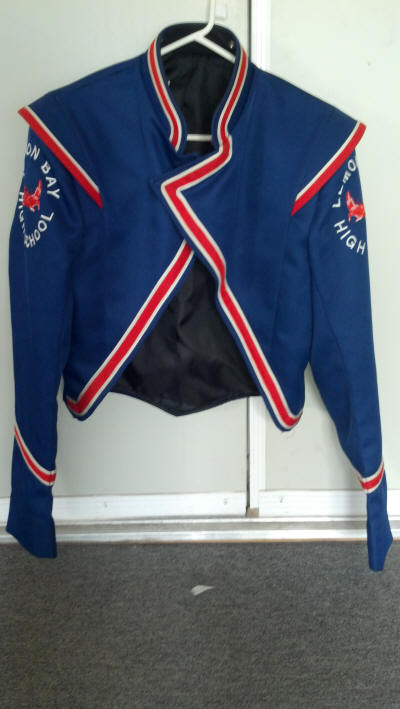 Item#0110LEMON076

Set of 64 (+/-) Royal Blue and Red Marching Band Jacket
Item#0409MART100

Set 100+ of Navy Marching Band Uniforms with White and Red Trim
Item#0110DAM100 SOLD!

Set of 100(+/-) used red, white and blue marching band uniforms
Item#0110YFABlue100 SOLD!

130+/- used royal blue uniforms with silver sequin insert
Item#0217GUSGauntlets075

75 pairs of gauntlets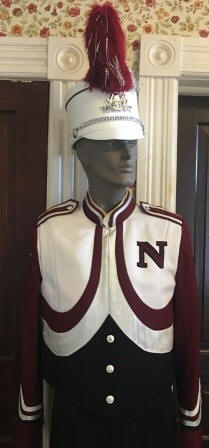 Set of 120 Burgundy, White and Black Fruhuaf Marching Band Uniforms
14 Purple Concert Dresses
Set of 44 Black with Orange hood winter coats.
Set of 104 Cesario Royal Blue, White, Black and Gold Marching Band Jackets with Matching Black Bibbers

Set of 50+/- white/black/gold marching band uniform jackets (includes 42 gold sequined baldrics)
Set of 150 red and black DeMoulin Capes
Lot of 150+/- White Dinkles Glide Marching Band Shoes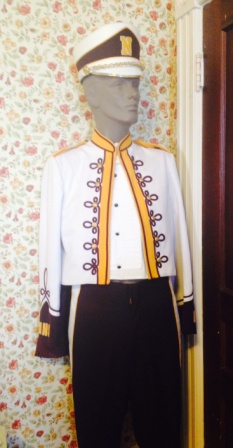 64 Maroon, White and Gold Marching Band Uniforms
Set of 75 plus White and Black Marching Band Uniforms
SOLD!
Set of 53 Used Blue/Black/White Jacket w/ sash Marching Uniforms
Set of 65+ Green Black and Gold Marching Band Uniforms
Set of 175+ Black & White Stanbury Marching Band Uniforms
Set of 20 Green, Black, and Silver Marching Band Uniforms including Busbies and Plumes
Lot of 60+/- Burgundy and White Fruhauf Marching Band Uniforms with 2 Pant Sets
Lot of 25 White Vinyl Gauntlets
0110BlackGauntlet098
18 Pairs of Black Vinyl Marching Band Gauntlets
241 plain Black bibbers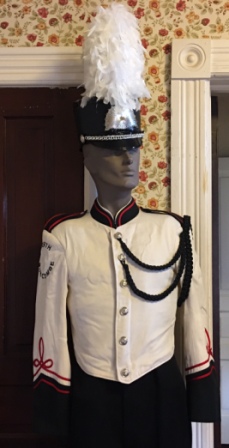 Set of 50 White and Black Stanbury Used Marching Band Uniforms
Don't forget our Shako's page!
Used Shako's of various styles/colors as well as buzby's, aussies, etc..
SOLD!
Set of 210 +\- Navy and Columbia Blue Fruhauf Marching Band Uniforms
Item#0313MORG100
Set of 100+/- Blue Marching Band Pants